The First Email Sent
Ray Tomlinson reportedly sent the first network message from computer to computer on October 29, 1971. His development work on the evolving ARPANET (Advanced Research Projects Agency Network), a government-funded network to connect various research facilities, would be the perfect environment for his experiment.
Although the ability to send messages to other people on the same computer had been around for a few years, Tomlinson wanted to send messages to people not machines. He gave us the ubiquitous "@" symbol and ushered in an application that according to Statista, in 2020, enables the sending and receiving of approximately 306 billion emails daily among 4 billion global users.
Email and the Birth of an Industry
Just think about how many companies and markets around the world exist today because of email: the global Email Marketing market size in 2020 estimated at $7.5 billion; the Secure Email Gateway market in 2020 estimated at $3.2 billion. By 2027, Gartner estimates the global Email Encryption Market will reach nearly $13 billion. The list is extensive and includes MSPs, anti-virus and anti-malware vendors, email archiving and backup vendors, security awareness firms, and scores of other email-related products and services. What started out as an alternative to telephone communication has blossomed into an industry that has produced scores of companies and jobs for millions of people around the world.
The Growth of New Companies
Like many companies created by the invention of email, MDaemon® Technologies (founded as Alt-N Technologies) seized an opportunity to provide IT professionals an alternative to the more expensive and management intensive Microsoft Exchange Server. Launched in 1996, the MDaemon Email Server gained a loyal following of IT professionals who had few alternatives at the time for affordable, reliable, and secure email platforms. Today, MDaemon Email Server supports companies in more than 140 countries and is one of the top email solutions by IT professionals as reported on the largest software review site, G2.
I asked MDaemon Technologies' founder, Arvel Hathcock, what he thought about this 50-year milestone.
"I thought how, at the core protocol level, a certain simplicity of design has allowed for rapid and widespread adoption of email. At the same time, this design simplicity left us with large gaps in security, which we have been dealing with as an industry ever since. Much of my time over the past 20 years was conceiving, implementing, and testing solutions to individual security shortcomings of the core email protocols.
As an industry, we have made a lot of progress in the area of email security, especially with regard to encrypted authenticators like DKIM. I am especially proud of the developer event we hosted nearly 15 years ago to facilitate the testing, implementation, and interoperability of DKIM between mail servers and email services. That activity and the ongoing work being done to make email safer will remain a challenge as long as the bad actors use it to harm individuals and businesses," said Hathcock.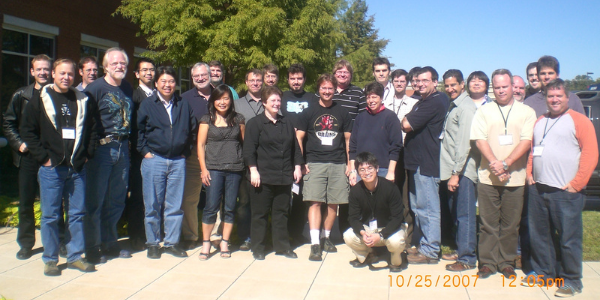 An Ongoing Legacy
Sadly, the world lost Ray Tomlinson in 2016. In a 2012 interview with The Verge, Tomlinson said he saw email being used, "by and large, exactly the way I envisioned." He even believed that Spam was an indication that email was popular. Although the attacks using email have increased since that interview and the incidences of Phishing, BECs (Business Email Compromise), Ransomware and other email-delivered threats continue, one has to agree that Tomlinson's vision and little experiment 50 years ago has benefitted us all.
---