If you're a key decision maker in healthcare, government, finance, or any other highly regulated industry, how trusting are you of your employees to protect your company's most valuable asset - its data? Now that businesses have had over a year to adjust to remote work, they've had to put more trust in employees when it comes to the handling of personally identifiable information (PII) of their customers. This has led to a number of data breaches, HIPAA & GDPR violations, and many other incidents.
These key figures were reported earlier last year, and certainly by now these statistics have increased.
Around 25% of email data breaches were caused by employees inappropriately sharing data
Over 85% of employees are sending more emails as they continue to work from home
About two-thirds of IT leaders have reported data leaks via email since the transition to remote work as a result of the pandemic
Data leaks can occur in many ways. The most common causes of data leaks are insider threats from within the business, hackers who have obtained access to compromised accounts, and users who fell victim to successful phishing and social engineering attacks.
With the recent transition to telehealth due to the pandemic, data leaks via email are on the rise. Recent reports indicate that businesses using Office 365 have seen a 67 percent increase in data leaks via email since March 2020.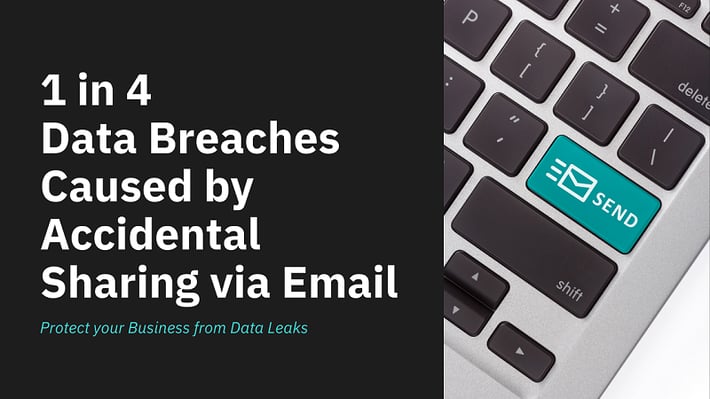 What is Data Leak Prevention?
Data Leak Prevention (or Data Loss Prevention or DLP) is the practice of detecting and preventing the transmission of sensitive data outside of your network.
Why Businesses Need Data Leak Prevention
Businesses employ multiple tools to protect their data, including intrusion detection systems, firewalls & antivirus software. These solutions are certainly effective at blocking threats based on their activity patterns, but when it comes to personal data such as Social Security numbers, financial information or medical data, additional protection is needed.
Stop Email-borne Data Leaks with Security Gateway for Email Servers

Security Gateway for Email Servers includes a variety of built-in data leak prevention rules to protect your business against data loss via email. Administrators can easily customize these rules, or add their own to suit their specific business needs.
Watch our Tutorial Video: How to Configure Data Leak Prevention Rules in Security Gateway for Email Servers
How to Configure Data Leak Prevention in Security Gateway
It's easy to configure data leak prevention rules in Security Gateway. Simply navigate to the Data Leak Prevention settings via the Security menu & check the box for each DLP rule you would like to enable.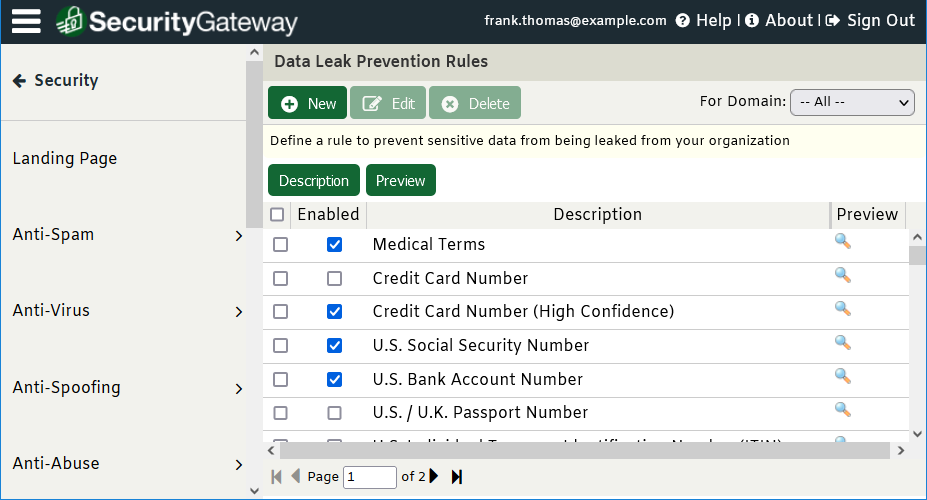 You can even customize DLP rules by clicking the Edit button. For example, you can modify the action taken on emails containing sensitive data, such as sending them to the administrative quarantine for review, redirecting them, or even encrypting them.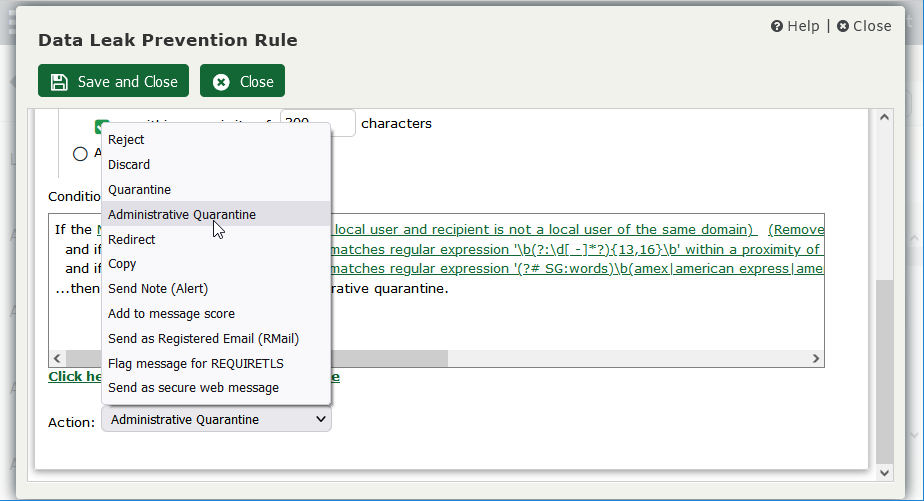 A good data leak prevention solution can help protect your business from legal headaches & a damaged reputation. Click here to learn more about Security Gateway for Email Servers, and leave us a comment if you have questions or would like to learn more!