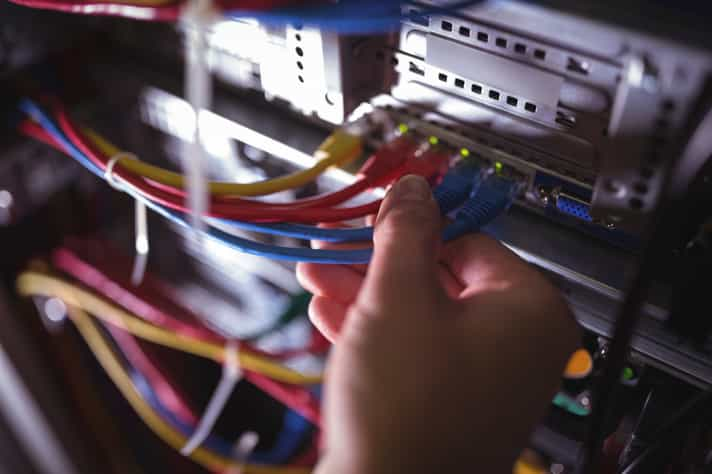 Are you receiving the following message from MDaemon?

"The disk space on the drive(s) used by your MDaemon mail server has dropped below a preset threshold. SMTP, DomainPOP, and MultiPOP functions have been disabled. You must manually restart them once some space has been freed up."

The hard drive which mdaemon.exe is located on is running out of space. Your MDaemon is configured to monitor the hard drive space and if you drop below a certain threshold, it sends an e-mail to your postmater account and disables TCP/IP services. The reason for this is to prevent running completely out of disk space.

The settings for this feature can be reached by clicking on Setup > Preferences > then clicking on Disk.
You may want to use a disk space utility such as i.Disk or WinDirStat to see what folders are consuming your disk space. These are the MDaemon folders most likely to be using all your disk space:
MDaemon/Users/ - This is where all of your users' e-mail is stored. If this folder seems to be consuming a large amount of disk space, drill down two levels to where your individual user folders are and check to see if any of them are consuming a large amount of space.
MDaemon/Backup/ - MDaemon is configured to perform nightly backups of your configuration files and locates these here. Also, whenever you perform an upgrade of MDaemon a copy of your entire App folder along with your SpamAssassin folder is placed in a subfolder of this folder. MDaemon does not ever delete any of your backups so if not deleted by you they will keep accumulating.
MDaemon/Logs/ - MDaemon stores all of your log files in this folder. Depending on your MDaemon settings, it may compress your older logs into a .ZIP file and place that .ZIP file in the OldLogs subfolder of this folder. Again, MDaemon does not delete any of your old logs, so if not deleted by you they will keep accumulating.
MDaemon/Public Folders/ - This is where all of the data from your MDaemon public folders (contacts, calendars, tasks, mail, documents) is stored.
The above folders are the most likely culprits for the space being consumed, but if disk spaced is taken up in other directories, then I recommend using Windows Explorer or one of the previously mentioned utilities to identify the cause of the used disk space.
If it is old log files or old zipped backup files which are consuming your disk space, you can delete them or move them to a different drive or medium. If it is mail or information in the Users folder or Public Folders folder, you will need to find out what users are taking up the space and ask them to remove the mail.
You can turn on old mail pruning (Setup > Domain Manager > Options > Account & Mail Pruning and Setup > Server Settings > Pruning) to have MDaemon remove mail that is older than a certain number of days.
To prevent users from accumulating too much e-mail in their mailboxes, you can activate usage quotas on a per-user basis. When editing a user account, click on Quotas in the left-hand navigation menu. You can set a maximum number of messages stored at once and/or a maximum amount of disk space each user is allowed to use.
Comments or questions? Share them with us in the Comments section below.