If you're in charge of managing your company's email, whether you're running an in-house Exchange server or Office 365, you've certainly become all too familiar with the latest threats posed by cybercriminals - threats that go far beyond the old-school Nigerian Prince email scam that has become the brunt of jokes over the past couple of decades. So if protecting your employees from email-borne scams is important to you & your business, a secure email gateway to protect against phishing, malware, data leaks and other threats would be a sound investment.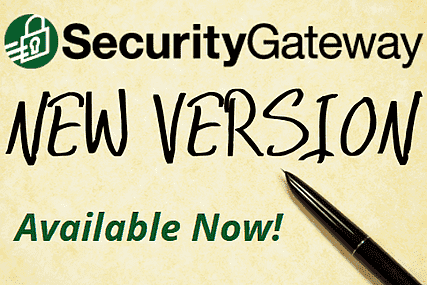 If you're looking for email security solution that will block the most spam, viruses, and phishing threats, with user-friendly email traffic reports, email archiving, and Data Leak Prevention (DLP) at a price that's affordable for small businesses, consider Security Gateway for Email Servers.
Announcing Security Gateway 6.5!
This week, we released Security Gateway 6.5, with improved attachment handling and external database support.
Macro Detection in Office Documents
Cybercriminals often use macros in email attachments to spread malware. In Security Gateway 6.5, the Cyren Antivirus engine can be configured to detect macros in Microsoft Office documents and flag them as infected.
Improved Handling of Restricted Attachments
Messages sent from Microsoft Outlook in Rich Text format are sent with an embedded file containing formatting data. Receiving email clients that do not understand this data may display it as a Winmail.dat attachment. To prevent users from bypassing the restricted attachments list by attaching restricted file types to rich text emails, SecurityGateway can now look inside Winmail.dat attachments for restricted file.
Security Gateway can now also scan RAR archives for restricted attachments.
External Database Support
Security Gateway installs with its own embedded Firebird database, however, in the latest release, administrators can configure Security Gateway to use an external Firebird database for improved performance.
Other Improvements
These are just the highlights. Additional features include email archive journal reports plus enhancements to manage archive and Sieve scripts via the API. You can read the full list of new features here in the release notes, or download your free trial to begin protecting your business against the latest threats!