We're excited to announce the release of MDaemon 23. This latest version of the trusted email server software includes highly-anticipated enhancements for integration with GMail and Microsoft 365, as well as administrative and usability improvements.
New Features for Administrators
Seamless Integration with GMail and Microsoft 365

MDaemon now supports OAuth 2.0, which is a security standard that allows two parties to reliably and securely exchange information. For example, it allows one service (such as MDaemon) to access resources on another service (such as GMail or Microsoft 365) on behalf of the user. This is also known as delegated authority, and it allows MDaemon users to seamlessly download their email from GMail or Microsoft 365 into their MDaemon mailboxes without having to directly login on those platforms.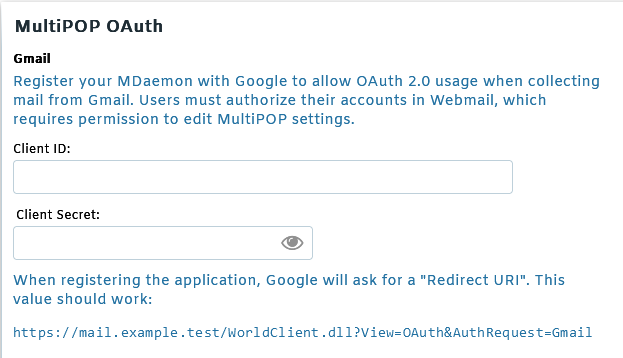 Improved User Interface for MDaemon Remote Administration
MDaemon Remote Administration has been redesigned with a more intuitive layout to help mail server administrators manage domains, accounts and server settings more efficiently.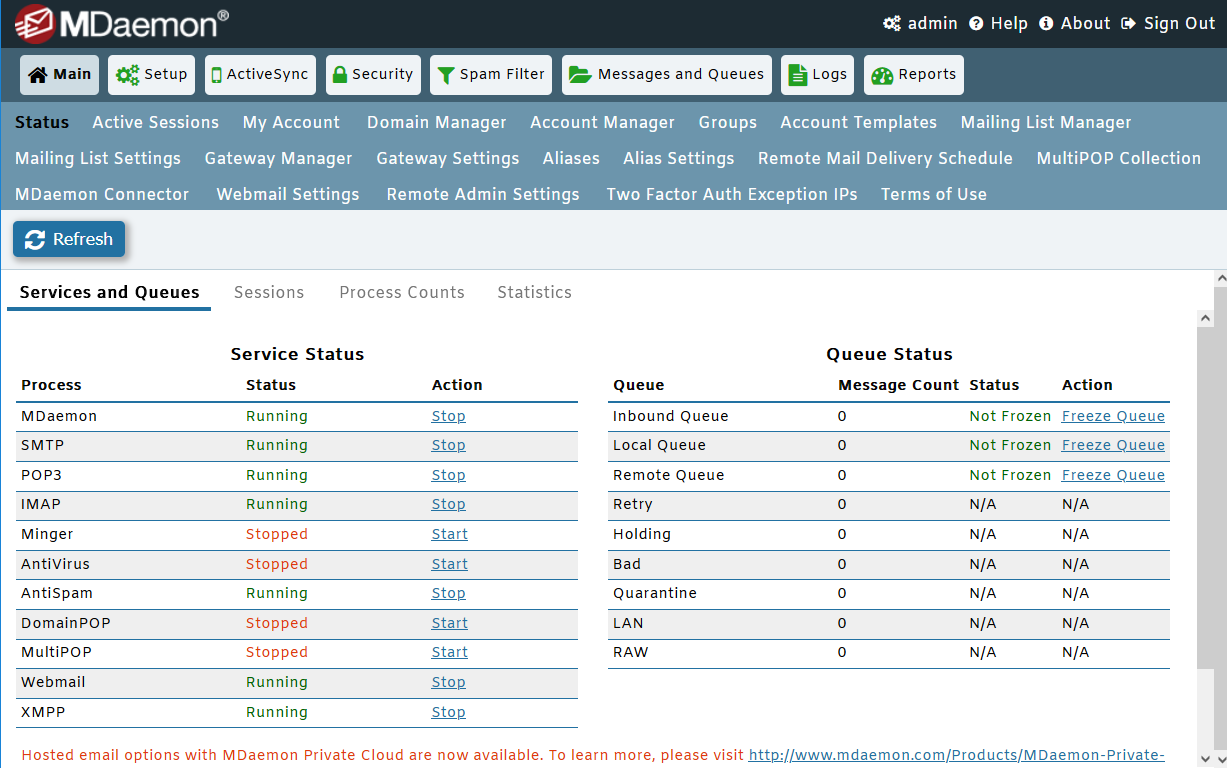 Organize Email into Categories Across Multiple IMAP Clients using Keyword Flags
Users can organize their email messages into categories across multiple IMAP clients using keyword flags. When a user assigns keywords to a message in one mail client, those keywords will be stored on the MDaemon server and synchronized to other mail clients that support keyword flags.
SSL Certificate Expiration Notifications
To help administrators avoid SSL service interruptions, MDaemon will send a warning email to administrators when SSL certificates configured for use by MDaemon, Webmail, or Remote Administration are about to expire.
New Features for End Users
Google Drive Integration for MDaemon Webmail
While MDaemon Webmail continues to support shared documents and DropBox integration, in MDaemon 23, Google Drive has been integrated into Webmail Documents. Users can view their drives, folders and files that are stored in Google Drive, and they can upload, download, move, copy, rename, and delete files, as well as copy or move files to and from the local Documents folder. Users with proper permissions can even directly edit Google Drive documents by clicking the option to view the file in Google Drive.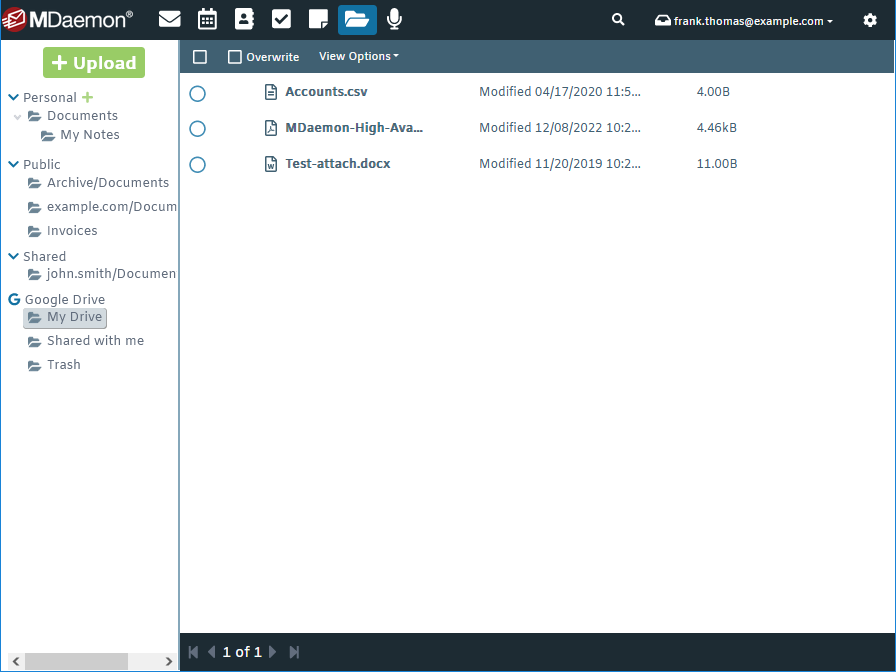 Other Improvements
MDaemon
MDaemon's Dynamic Screening feature includes a new option titled Block Logon Policy Violations. If the logon policy to require the full email addresses is active, and Block Logon Policy Violations is active, then the offending IP address will be blocked immediately. This is to deter malicious actors from trying to log into an MDaemon account using only a username and not the full email address.
We've also added a new option for authentication failures to only ignore duplicate passwords for valid accounts. This means that if a password change was made at a client, then another client using the old password will still have "ignore duplicates" enabled, since it would have the correct logon name. A bot trying random logons with a similar password would not have that same benefit, and will be blocked as soon as it surpasses the authentication failure threshold. This will help to defeat bots much more quickly.
MDaemon Antivirus - Added an option to exclude trusted IPs from virus scanning.
MTA-STS now has an exempt list to help work around deliverability issues when a receiver publishes a MTA-STS policy but the server does not support STARTTLS.
The content filter attachments configuration screen now includes an option to add a warning at the top of a message if a restricted attachment is removed from the message.
MDaemon Webmail
The Pro theme for MDaemon Webmail now supports read receipts.
MDaemon Webmail now supports drag & drop for folders.
Remote Administration
Added an option to allow users to receive Two Factor Authentication verification codes via email.
ActiveSync
Administrators can now define a custom display name for mailbox and public folders.
Added option to disable the ability to factory wipe devices.
ActiveSync clients can now send to personal distribution lists in Contact folders.
For a complete list of new features & updates, please see the MDaemon release notes.
Are you a current Microsoft Exchange or Microsoft 365 user looking to save money and administrative overhead on your email server? Give MDaemon a try! Visit our Downloads page to download your free trial.