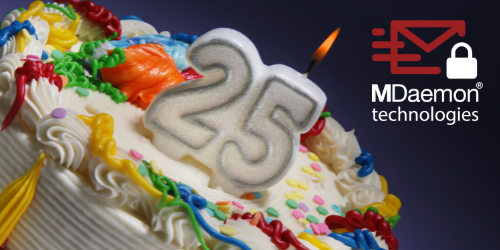 Beating the Odds
In July of 2022, MDaemon Technologies (formerly Alt-N Technologies) celebrated a unique milestone for a software company: 25 years in business.
You are probably familiar with the statistics: the average lifespan of an American company is 11.5 years. For startup companies, less than 10% remain after ten years (Businessdatalist.com). So how does a small software company in Texas defy the odds and compete against some of the largest companies in the email and security industry to build a loyal customer base that spans 140 countries? I know it sounds like a cliché, but listening to customers and providing an affordable, reliable product backed by great customer support have been the ingredients to our success.
It Was a Kitchen Table, Not a Garage
How many stories of a product's origins begin in a founder's garage? The spark to build an alternative to Microsoft's Exchange® server was lit in the late nineties when the owner of a small business said that he couldn't afford the new technology called email. A young developer at the company named Arvel Hatchcock decided he would help his boss find an alternative that would fit the budgets and needs of small and medium businesses.
Arvel, who was already working with bulletin boards and other emerging communication tools in his spare time, spent nights at his kitchen table researching, talking with early email pioneers, and programming. Within a short time, he had developed the first version of the MDaemon® email server and placed it on the Internet for IT professionals to download and try. The feedback was positive.
Arvel continued to listen to the needs of the customers. He and his team of developers added new feature requests with every release and looked for ways to make the management of email as easy as possible. Over the years, awareness of the software spread by word of mouth, and the company added more employees and customers. The MDaemon email server built a loyal customer base by offering IT professionals an affordable, easy-to-manage mail server with trusted security features. And when customers said they liked the security and spam control of the MDaemon mail server so much that some were placing it in front of Exchange, the development team quickly modified the software and released SecurityGateway™, email gateway software that protects any SMTP email server.
A Focus on Helping
Surviving in an industry full of constant change is no easy task. But for MDaemon Technologies, focusing on customer needs and working to make email software as safe and reliable as possible is the core of the MDaemon ethos. One example occurred when the company hosted a DKIM working group of engineers at its Texas headquarters to facilitate the interoperability of a new email authentication protocol that would improve email security from scammers. Engineers and developers from diverse companies such as Yahoo!, IBM, PGP Corporation, Cisco, IBM, and others came together to build DKIM (DomainKeys Identified Mail) interoperability across the various platforms. There wasn't a lot of public fanfare. It was a group of developers working together who were committed to making email as safe as possible for all users, regardless of platform. As a result, MDaemon customers were able to receive the benefits of the authentication features even before they were available in competitive products.
Adapting for a Changing World
For many companies, there is rarely a one-size-fits-all solution. IT professionals want and need software that is flexible for their unique environments by a company with a strong history of outstanding customer and technical support. As the shift to more cloud-based email services grows, MDaemon Technologies has seen a shift in its business. While some smaller companies with outsourced IT have moved to third-party cloud-managed solutions, we see a growing shift in the number of medium-sized and larger business customers using our email server and email security software. A few reasons customers cite include the desire for private hybrid cloud deployments, control and privacy use with the software, MSPs who want to provide white label email services, or the need for closed and federated email networks.
The Bottom Line
To be successful, software must be reliable and make the IT professional's life less complicated. Many customers looking for alternatives to their existing email and email security software have found affordability, simplicity, and reliability in our products. If there is one theme that has echoed from customer reviews and comments over the past two decades, it has been, "It just works!" And it just works because of a dedicated team of employees and channel partners who strive to meet the diverse needs of organizations in over 140 countries.
So, to our loyal customers around the globe, our channel partners, and employees, we thank you for the past 25 years and look forward to the next 25!
---