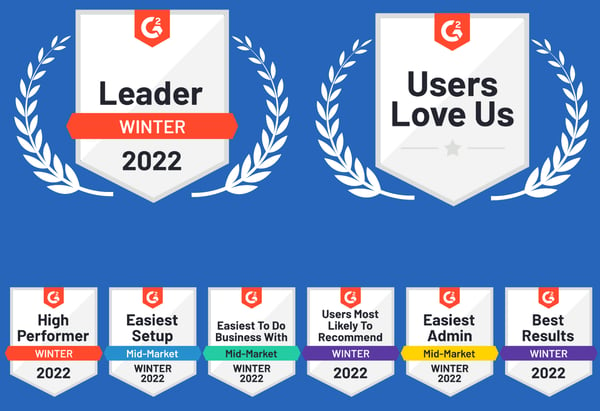 G2 just released their Winter 2022 badges, and MDaemon Email Server continues to rank at the top of the Email Software category and a top alternative to Microsoft Exchange.
Thanks to user reviews, MDaemon Email earned badges for Best Results, Easiest To Do Business With, Easiest Setup, and more. With hundreds of five-star reviews, MDaemon Email Server customers note that it provides cost savings without sacrificing features, flexibility and ease of management, and security to protect users against constantly changing email threats. MDaemon also receives above-average user ratings for ease of setup, ease of use, and quality of support.
G2's quarterly software awards reflect the opinions of over one million email software users around the globe who review over 90 vendors in the category.
Here are a few highlights from recent customer reviews:
"It is a very organized system in terms of software usability and contains options that in other systems do not exist or are very difficult to configure. I have used it for almost 20 years. It has rules for almost everything you may need which makes this an ideal solution." – Neo G., Infrastructure Engineer



"Easy UI experience (bother for administrator and user), responsive web interface, and top-notch security." – Asif K., IT Director



"I have been using MDaemon for over 20 years, and it has never failed me - it has everything I need. I love the way I can see what has happened with the easy-to-understand logs." – Tomas R., CTO

"The mail system is secure, with simple administration and highly competent technical service." – Ismael O., System Administrator
Want to learn more about MDaemon Technologies' flexible virtual, on-premise, and hosted email solutions? Download our free 30-day trial, no credit card needed, and discover at your own pace how simple and secure your email solution can be.