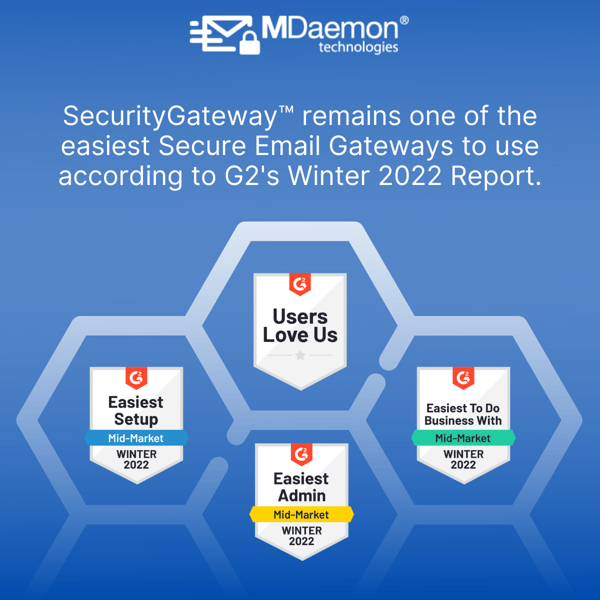 G2 just released their Winter 2022 badges, and SecurityGateway™ for Email Servers continues to rank at the top of the Secure Email Gateway Software category.
Based on reviews from our users, SecurityGateway earned High Performer, Easiest To Do Business With, and Easiest Admins badges. Customers call SecurityGateway flexible, easy-to-use, affordable, and effective, protecting users against constantly changing email threats and data leaks.
G2's quarterly software awards reflect the opinions of over one million email software users around the globe who review over 90 vendors in the category.
Here are a few comments from recent customer reviews:
"I like the email security platform this company offers. It has stopped many emails before they hit my inbox. I am very glad I have this in place." – Harvey F.


"If you are looking for high-quality security protection at a very fair price, you must give these folks a try. Their personalized tech support is also top-shelf and very refreshing." – Jack V.


"Security Gateway is a very easy platform to install, very light and with a very friendly administration." – Administrator


"It is an easy platform to implement, configure and use. It works perfectly as a filter for spam, phishing and virus emails." – Alexandre T.
Want to learn more about SecurityGateway's flexible features and deployment options for on-premise, hosted, or SaaS environments? Access our Virtual Demo or download our free 30-day trial, no credit card needed, and discover at your own pace how simple and secure your email solution can be.