In an earlier post, we discussed six security benefits of choosing an on-premise email solution over cloud-hosted solutions such a Microsoft 365. Today we discuss the customization & integration benefits of choosing an on-premise email server over cloud hosted email.
On-premise email servers offer greater flexibility for customization and integration with other systems. Administrators have more control over the server's configuration, enabling them to tailor it to the organization's unique needs and integrate it seamlessly with other on premise applications and infrastructure.
Integration with Other Systems
On-premise email systems can be integrated with other internal systems, such as CRM, ERP, and custom applications. This integration capability allows for improved communication and data sharing across various departments and functions within your organization.
For example, MDaemon can be configured to query Active Directory to synchronize email accounts, and determine what to do with accounts that are deleted from Active Directory, such as delete them from MDaemon or freeze them so that the account can still collect mail, but the user cannot access the mailbox.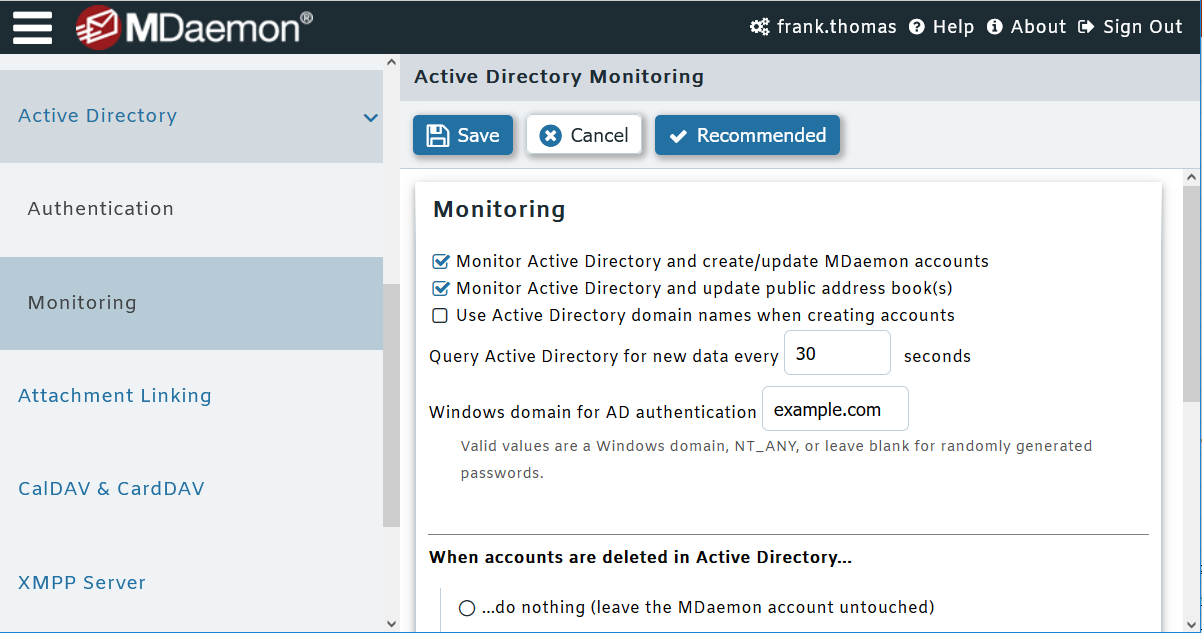 MDaemon also includes an API, giving administrators greater control over workflows and integration with third-party systems.
Custom Workflow Implementation
Organizations often have unique workflows and processes. On-premise email solutions enable you to customize email workflows, automation, and processes to align with your specific business needs, potentially increasing productivity and efficiency.
Here are some examples of how MDaemon's workflows can be customized.
Content Filtering Rules – MDaemon administrators can create content filtering rules to perform a variety of actions on inbound emails based on multiple conditions. For example, you can create rules to route messages to specific folders or queues, add custom mail headers, and much more.


Custom Mail Queues and Delivery Schedules – In MDaemon, administrators can create custom mail queues and assign custom delivery schedules to them. For example, you could create a custom queue called Large_Mail and then create a content filter rule that sends messages larger than a designated size to this queue. You can then configure mail delivery for this queue to take place at certain times of the day.



Pre-Processing Rules – Pre-processing rules allow administrators to run a program just prior to the processing and delivery of any messages that might be in the local or remote message queues. For example, you could use pre-processing on the local queue to run a script that removes all HTML content from emails and leaves you with a plain-text body.



Route Slips – Route slips can be used to override the message delivery information found in its headers and provide specific alternatives to where and to whom a message must be sent.


SMS Text Alerts – Using the Windows Event Log, MDaemon administrators can enter the email address of their mobile carrier's SMS gateway to send critical notifications via text message. These events can include the MDaemon server starting up or shutting down, network socket failures, database connectivity problems, and more. Watch our tutorial video to learn more.


Scalability Control
While scaling an on-premise email system may require careful planning and investment in hardware and infrastructure, the advantage is that you have complete control over how and when to scale. This allows you to tailor your scalability strategy to match your organization's growth and resource availability.
When the time comes to upgrade server hardware, MDaemon can easily be moved by following a few simple steps, which are outlined in this knowledge base article.
Custom User Experience
On-premise solutions enable you to design and implement a user interface that aligns with your organization's branding and usability preferences. You can create a cohesive user experience that integrates seamlessly with other internal tools and systems.
Custom branding for MDaemon Webmail & Remote Administration – MDaemon administrators can upload their company logo, which is displayed in MDaemon Webmail and Remote Administration.





Multiple Webmail design themes –Several design themes and color schemes are available for MDaemon Webmail, allowing administrators and users to change the look and feel of their webmail experience.


Custom Webmail Buttons – Custom MDaemon Webmail buttons allow users one-click access to other tools, such as an email archiving solution or secure email gateway user quarantine.

Watch our tutorial video to learn more: How to Create Custom Links in the MDaemon Webmail Navigation Bar
Performance Optimization
With an on-premise email server, you can fine-tune the system's performance to meet your specific requirements. This includes optimizing email delivery, reducing latency, and ensuring reliable communication within your organization.
MDaemon administrators can configure the number of concurrent sessions that are allowed, as well as the number of messages handled per session and processing timeout thresholds. This is useful for environments that may have fewer system resources or slower network connections.
Customized Archiving and Retention
Organizations often have unique archiving and data retention policies. On-premise email solutions allow you to implement custom archiving and retention strategies that align with your legal and business requirements.
Control Over Updates and Upgrades
Sometimes, updates implemented by hosted solutions such as Microsoft 365 can lead to unintended consequences or unwanted feature or configuration changes. With an on premise solution, you have control over when and how software updates and upgrades are implemented. This allows you to ensure compatibility with other systems and thoroughly test changes before deployment.
MDaemon, for example, can be configured to notify an administrator when a software update is available. The administrator can then read the release notes to determine whether and when to implement the update. When an update is available, MDaemon can be configured to download and install it automatically as soon as it becomes available, or at a pre-determined time in the future.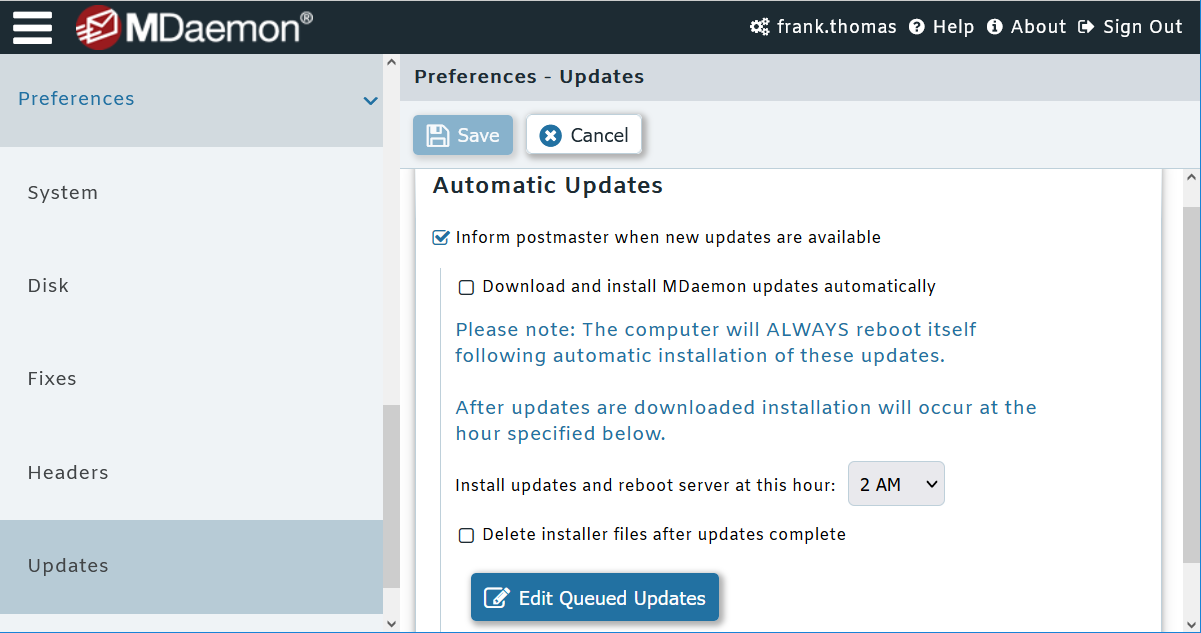 Custom Anti-spam & Email Security Settings
With an on-premise email server, businesses can customize their spam filter and security settings to meet the needs of their specific business or industry. For example, with MDaemon, administrators can configure custom spam scoring values, including custom SpamAssassin scores for various spam-like characteristics found in an incoming email. Anti-abuse settings such as dynamic screening and location screening can also be customized, as well as email authentication settings such as SMTP authentication, DMARC policies, and more.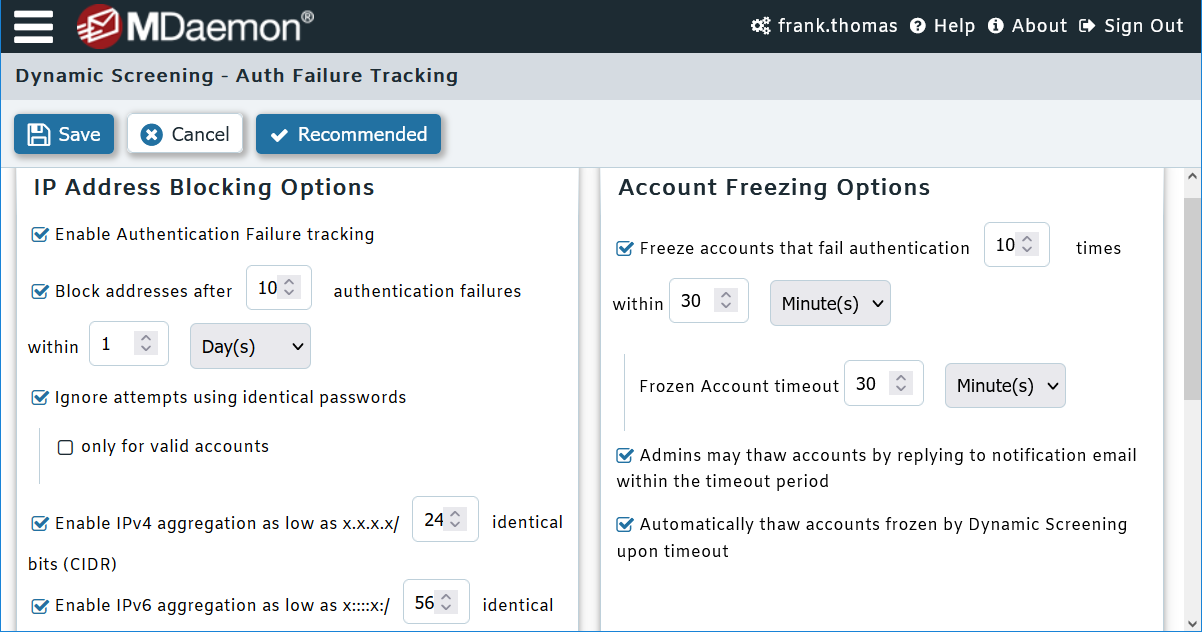 Custom Storage Locations for Email and Logs
Another benefit of an on-premise email server is the ability to configure custom locations for mailboxes, mail queues, and logs. Administrators can improve the performance of their mail server by locating mailboxes, mail queues, and email delivery logs on separate physical drives.
MDaemon administrators can change these directory locations by editing the Directories section of the MDaemon.ini file, located in the MDaemon/App directory.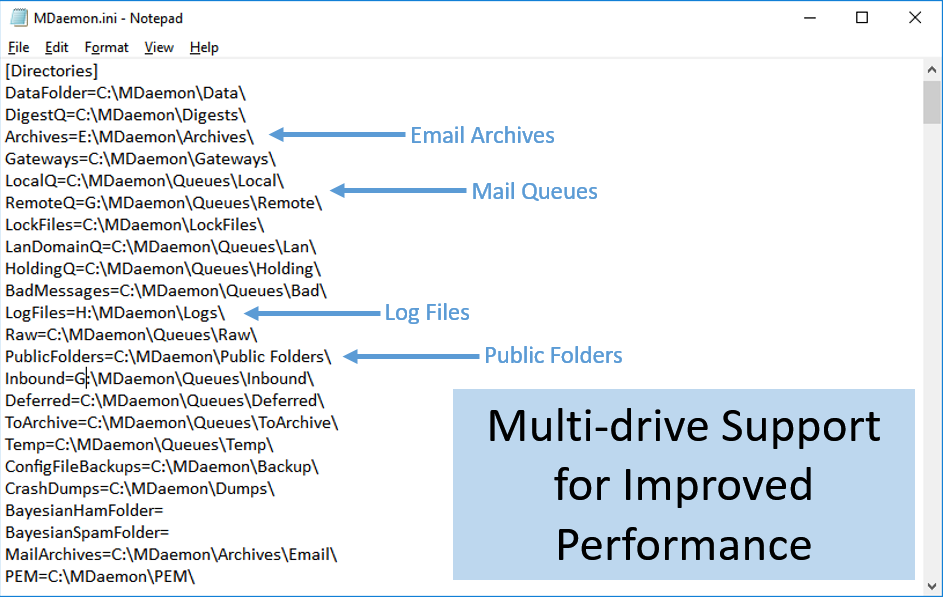 An Email Server that Suits Your Business Needs
Many small to medium-sized businesses have very specific needs when it comes to their email. MDaemon is a versatile email solution that can be customized for a variety of environments.
Personal Demo & Free Trial Available!
Want to learn more about MDaemon? Click here to schedule a personal demo, or click here to download your free trial!